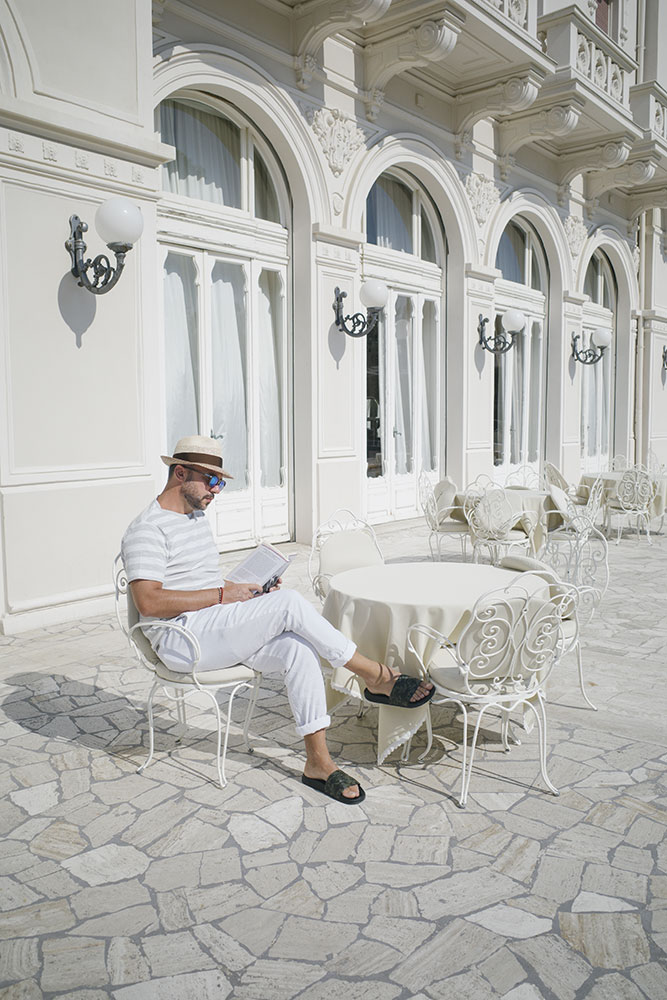 September 2020.
In Italy, as in many other parts of the world, those who work in the destination wedding industry have always been the busiest month. Challenging, sometimes hard but also the month in which you prepare for the end of the season after months of hard work and stunning weddings.
Those who work as wedding videographer like me in the wedding industry – but also wedding planners, photographers, florists and designers etc. –  understand what it means not to work in September. It is relaxing but also sad and melancholy. It makes a strange feeling to have empty days in this still beautiful and warm season. So I try to take it with philosophy, perhaps by reading a good book and continuing to surround myself with beauty as much as possible – like in this picture at the Grand Hotel di Rimini.
Perhaps because of the Covid-19 I finally have time to stop for a moment and reflect. I'm able to spend my free time thinking about the next wedding season 2021, how to improve services and wedding film packages, how to make even more beautiful videos, how to help future customers along the booking process. So probably (I hope) it won't be not only time lost in waiting, but a good opportunity to become something better, as a person and a professional.
I think positive and I am sure that the next wedding season 2021 will be great. In addition to many destination weddings in Italy, I also have two weddings in Los Angeles, one in Paros, Greece and Paris, others in Ireland and Phuket, Thailand. I will work hard to make each of them a unique masterpiece!
Meanwhile, I continue to read this book sitting in the hot sun of the Italian Riviera.
If you like, follow me on my Instagram page Dolcevita Wedding Cinema to stay updated.

Stay safe!
Giordano